The Hidden Village, historical fiction set in WW2, by Imogen Matthews
Deep in the dense woods of the Dutch Veluwe lies a monument in memory of six Jews who were shot by the Nazis in October 1944. Every year on Commemoration day, inhabitants of Vierhouten and neighbouring Nunspeet gather to put flowers on the memorial stone.
What's the story behind this monument, hidden deep in the woods near Vierhouten?
During the Second World War all Jews faced deportation to concentration and death camps by the Nazis. Since chances of discovery were less likely in the Dutch countryside, some were desperate to get shelter outside of the big cities. Around Vierhouten in the province of Gelderland many were looking for a hiding place. Due to the large numbers of refugees, the villagers could no longer shelter them in their own homes. The villagers of Vierhouten, led by the lawyer Von Baumhauer and the Bakkers, decided to go deep into the woods to build wooden huts that housed as many as 100 people.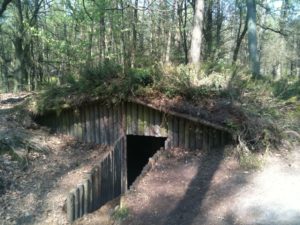 Unfortunate discovery of the Hidden Village
From February 1943 until October 1944 the refugees lived in these huts many below ground. Their very survival depended on the goodwill and courage of the villagers. With Germans roaming about the place it was very hard to bring food and supplies to the people in the hidden village. Unfortunately the huts were discovered and eight Jews in total were shot. The other 78 luckily managed to escape. Apart from Jewish families, the hidden village was also occupied by young Dutch men trying to avoid Arbeitseinsatz (enforced labour in Germany), refugees from nearby camp Amersfoort and stranded pilots from the Allied forces.
When Imogen Matthews, an Oxford author, came upon the memorial during one of her cycling holidays in Holland, she was intrigued. She discovered the three huts that were rebuilt in 1970 and 1995. Being of Dutch descent herself, she was able to read Het Verscholen Dorp, Verzet en Onderduikers op de Veluwe by A. Visser. The remarkable story of the Jews in hiding sparked off her imagination.
The result is The Hidden Village, a fast-paced work of historical fiction. The book does not claim to be historically accurate. The author used the subject of people hiding in the woods from the Germans as the starting point for this fascinating piece of fiction. Recommended reading for all of those interested in WW2 novels, and, especially, those set in wartime Holland.
The Hidden Village by Imogen Matthews is available from Amazon as Kindle ebook and paperback.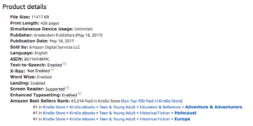 On 13 June 2017 The Hidden Village reached bestselling status in no less than 3 different categories. The book is clearly being appreciated!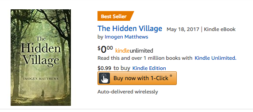 About the author
Imogen Matthews lives in Oxford, England and is the author of two romantic fiction e-novels. The Hidden Village is her first foray into historical fiction. Born in Rijswijk, Holland, to a Dutch mother and English father, the family moved to England when Imogen was very young. She has always enjoyed holidays in Holland and since 1990, has gone regularly with her husband and two children to Nunspeet on the edge of the Veluwe woods. It was here that she discovered the story of the hidden village, and, together with her mother's vivid stories of life in WW2 Holland, she was inspired to write her next novel…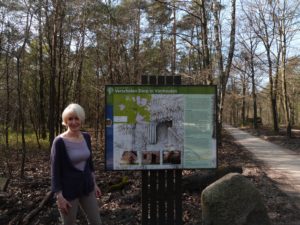 Imogen Matthews, author of The Hidden Village:
"I remember the first time I came across the village hidden deep in the Veluwe woods in Holland. We were on one of our favourite cycle routes bowling along paths framed by tall beech trees when I spotted a memorial stone I hadn't noticed before. Chillingly it told how a number of Jews had been shot dead by the Germans not long before the end of the war. They'd managed to stay hidden in a village of purpose-built huts for nearly 2 years.
What struck me about this episode frozen in time was how courageous & resilient these people were. So too were the many who were prepared to shelter these refugees by putting their own lives at risk. I didn't want to write a historical account of these events as I already had ideas for a fictional story and my characters were taking shape in my mind."

The Hidden Village in the press

http://jessiecahalin.com/author-chat-room/
Bewaren
Bewaren
Bewaren
Bewaren
Bewaren
Bewaren
Bewaren
Bewaren
Bewaren
Bewaren
Bewaren
Bewaren
Bewaren
Bewaren
Bewaren