Turbulence. Love can be a Bumpy Ride by Bruce McLaren
A promising young academic flies off on an adventure, in search of romance, passion and love. Women dominate his thoughts and he thirsts for the erotic spark.
Sometimes his interactions live beyond his wildest dreams, while at other times his fantasies and desires collapse and crumble before his eyes. The sum of his experiences leads to an explosive finale that will shake you to the core, just like heavy turbulence.
Intelligent and humorous Turbulence is an adventure novel that dares to dive into the realms of erotica and inspirational romance. Through a series of encounters with women the unpredictable anti-hero develops insights into philosophy and religion, aging, love, sex and marriage. The hard lessons of life cause his views to constantly evolve in the face of depression, divorce, alcohol abuse, failure and tragedy.
There is only one constant, turbulence, which is capricious and unpredictable and can hit at any moment. If you like air travel, then you will love this erotically charged adventure, both supremely triumphant and heart-achingly tragic in one breath.
Amsterdam Publishers is very pleased to have taken on Turbulence by Bruce Mclaren, a delightful work of literary fiction that would otherwise have fallen through the cracks between the big publishers! We want him to write more! We feel that he is the contemporay male version of Anaïs Nin and LOVE his style of writing.

About the Author
Bruce McLaren is an Australian from rural New South Wales, who left home and just kept on going. He has an academic background in the archaeology and ancient history of the Middle East and Central Asia, regions in which he has both travelled and worked extensively.
McLaren received his doctorate in Middle Eastern Archaeology at the University of Sydney and published the first examination of the military architecture of Bronze Age Jordan in 2003. He has excavated at numerous sites across the Middle East, dating from the Neolithic to the Islamic Periods.
Since he was a boy McLaren always wanted to write. A keen observer of the wide world around him and the experiences to be had therein, he felt an insatiable urge to convey the passions he felt through writing. Turbulence represents his first foray into the mysterious and magical world of contemporary fiction. Compared to the strictures of writing a doctoral dissertation, writing contemporary fiction, unfettered and free to let the imagination run wild, has been a true joy to him.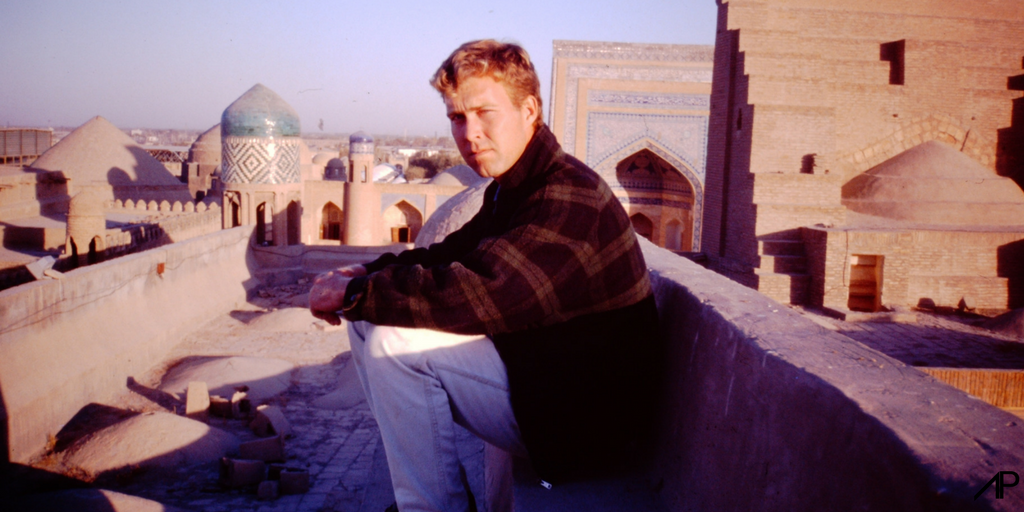 An early review by Aimee Ann of the RedheadedBooklover blog
Turbulence, Love Can be a Bumpy Ride can only be described as a moving novel, full of poignant and passionate moments that will move its readers and stir their emotions from the beginning to the very end. The story of Turbulence, Love Can be a Bumpy Ride is one that will take its readers on an unforgettable journey across the world; the journey the reader experiences will make them smile, laugh and sometimes feel desire thanks to the erotic touches laced throughout the novel.
Bruce McLaren, the author of Turbulence, Love Can be a Bumpy Ride has expertly weaved multiple themes throughout his novel which all perfectly balance each other to make one brilliant, enjoyable read. Lacing various themes in a book is difficult, especially with a romance story because the author has to be aware of not including too many opposing ideas into the story but McLaren has expertly achieved this with his eloquent writing which flawlessly weaves all themes and topics which will keep readers engaged from the start. Turbulence, Love Can be a Bumpy Ride is a novel that is not easily categorized because of the numerous themes laced throughout it; it could be described as a romance, romantic erotica or even contemporary fiction. As this novel incorporates many themes that is why I think it will be the perfect read for all readers to get lost in and enjoy.
One plot device used by Bruce McLaren which astounded me the most is his exceptional ability to grasp the reader's attention from the very first page. As I began to read Turbulence, I was immediately hooked and addicted to the storyline; the opening chapter is one which will grip its reader thanks to the author's descriptive sentences and impeccable narration. The reading style of Turbulence is one of pure delight, the words flow so beautifully throughout that you never want them to end as this book has such a superb, natural tone to it; one that I adored immensely.
Turbulence, Love Can be a Bumpy Ride is a book that demands to be read by everybody; I would challenge all readers – even those who do not like romance – to read Turbulence and try not to fall in love with it. At one point in time, a reader will come across that one novel that will astound them and capture their attention like no other book has done before, and I believe this book can be that book for you. It's beautiful narration, combined with its flawless literature, intriguing characters, and well-developed plot, make Turbulence an unmissable story and that is why I would recommend this book to all those that love the art of literature as it is a novel readers won't be able to help but love.