Inner Wisdom for Kids by Marjolein Smit
The portfolio of Amsterdam Publishers contains several books by the well-known Dutch Yoga teacher Marjolein Smit. These books are part of the series Inner Wisdom for Kids.
Marjolein Smit is a certified yoga instructor, who specializes in teaching yoga classes for toddlers and pre-schoolers. She has a vast experience with instructing yoga and has drawn from her vast experience so you and your child can benefit.
Happy Family Life is part I of Inner Wisdom for Kids. If you want to give your children a firm foundation in life, this is your book. It shows you how to achieve a happy and relaxed family life together with your children. You learn how to apply mindfulness for conscious parenting and find daily balance in a sometimes hectic life. The book is full of ideas, useful tips and exercises that help you reach your goals.
The book is also available in Dutch as: Happy Family.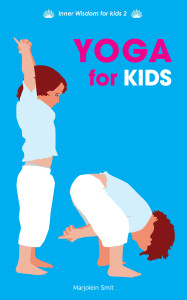 Yoga for Kids is part II of Inner Wisdom for Kids. It is a delightful and instructive book consisting of many color photographs that the author has taken of her young children practicing yoga. These pictures make the book a pleasure to read. It is recommended not only for parents, but also for instructors. You do not need any prior experience with yoga.
Through simple and fun breathing exercises and yoga figures, like animal poses, children quickly learn how to use their senses, are more aware of their body and feel increasingly at ease with themselves. Even more importantly, fun exercises and basic yoga poses help them to get in touch with their inner selves, and build self-confidence. The book is suitable for toddlers and Pre-schoolers. You cannot start too soon with Inner Wisdom for kids!
Praise for Inner Wisdom for Kids



Happy Family Life:
Wonderful book, lovingly written – "Love this book. I know Marjolein from the wonderful class Toddler yoga teacher I followed three years ago and she has written another beautiful, easy accessible book. Connecting with our children will become easier and easier with these tips and information. Reading Thank you very much!"
Just a great quality book for people who want a happy life – "This book is awesome! It's great quality with all the pictures and tips it is really easy and fun to read too. It is kind of spiritual in a sense because it tells all the feelings and why the theory explained is so great. But that is nothing that bothered me. Just a great quality book!"
About Marjolein Smit

Marjolein Smit is a Dutch certified yoga instructor, specializing in teaching yoga classes for toddlers and pre-schoolers.
For the Press
Should you wish to read all of Marjolein Smit's books, please see her Amazon Authorpage.
Bewaren