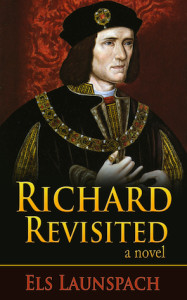 In 2014 Amsterdam Publishers did the bookpromotion for Richard Revisited by Els Launspach.
King Richard III, whose remains have been discovered under a garage park in Leicester in 2012, is traditionally seen as a tyrant, a child murderer and a usurper of the English throne. How  much of this reputation was born of the facts, and how much of political urgence? How much of it is propaganda inspired by the first Tudor king, which was perpetuated by Shakespeare down through the centuries? Opening with the spectacular findings in 2013, the Dutch well-known author and theatre critic Els Launspach portrays the intense dilemma's in Richard Revisited faced by three writers on 'history': the statesman Thomas More, the seventeenth-century Master of the Revels George Buc and Jennifer Simpson, a witness in the Trial of Richard III broadcast by London Weekend Television in 1983. What truth should they serve: The immediate pressures of political expediency and public opinion, or a truth they personally pursue? In their efforts to be true to themselves, each risks either humiliation or loss of integrity.
Within the frame of the discovery of King Richard III's remains, Richard Revisited offers a poignant image of three inquisitive minds caught up in an age-old struggle.
***** Download your copy of Richard Revisited here *****
Launspach shows convincingly that History does not exist, only a certain balance of interests. The author's game with fact and fiction is clever and exciting. – Het Nederlands Dagblad
History and literature are brilliantly entangled. – Trouw
The totally unexpected becomes the hook in this brilliant character-driven novel. But don't think for a minute that no action occurs. We all know that they have found Richard III's remains, in the most unlikely venue. Here we see the now, the then, and history blends itself accurately with the present. If you like quality action, historical and character-driven novels based on new findings. This is the book to read. Els Lauspach has done an excellent job. The pace is fast. A novel written in the present tense, to the point that the past, Thomas Moores' past, comes alive. It's a definite must-read for those who like this fascinating genre. Alana Richmond
About the Author
Els Launspach (MA 1981) is a novelist and essayist. She worked for various theatre groups in the Netherlands, among them the Mickery Theatre of Ritsaert ten Cate. She has published widely on theatre, art, mimetic theory and screenwriting. Launspach is regarded as a specialist in Greek tragedy and Shakespeare, lecturing all over the country and teaching at the Amsterdam Hogeschool voor de Kunsten. During the years she wrote seven novels for young people and three for adults. She lives in Haarlem. See also: www.elslaunspach.nl