Surviving PTSD & moral injury. How an Afghanistan veteran breaks the silence on mental illness by Erik Krikke
In 2007 Erik Krikke worked at the surgical department of the NATO Role 3 MMU hospital at Kandahar Airfield, Afghanistan. In the middle of a war zone, the medical staff worked around the clock, to perform live and limb saving surgery. He treated injured fellow military personnel, local police, but also innocent victims of the war. He saw hundreds of severe injuries during this time, and especially children suffering from war wounds made a deep impact on him. Erik returned with many invisible wounds. Back at home he started suffering from flashbacks. A sound or a comment, a certain image or a particular scent would instantly transfer him back to that hospital at Kandahar Airfield.
All the experiences get to him. At night the deceased and seriously disfigured visit him and keep him awake. They look at him with eyes full of blame. Erik feels guiltier by the day. It makes his life hell and he isn't able to enjoy his family, his two young children.
After many years he finally realises he has to break the silence. He asks for psychological help, as he is slowly losing his mind. So much so, that after all these years he is seriously considering ending his life.
This is when his toughest battle yet begins. As a veteran he has to confront his trauma, his PTSD, but above all, himself.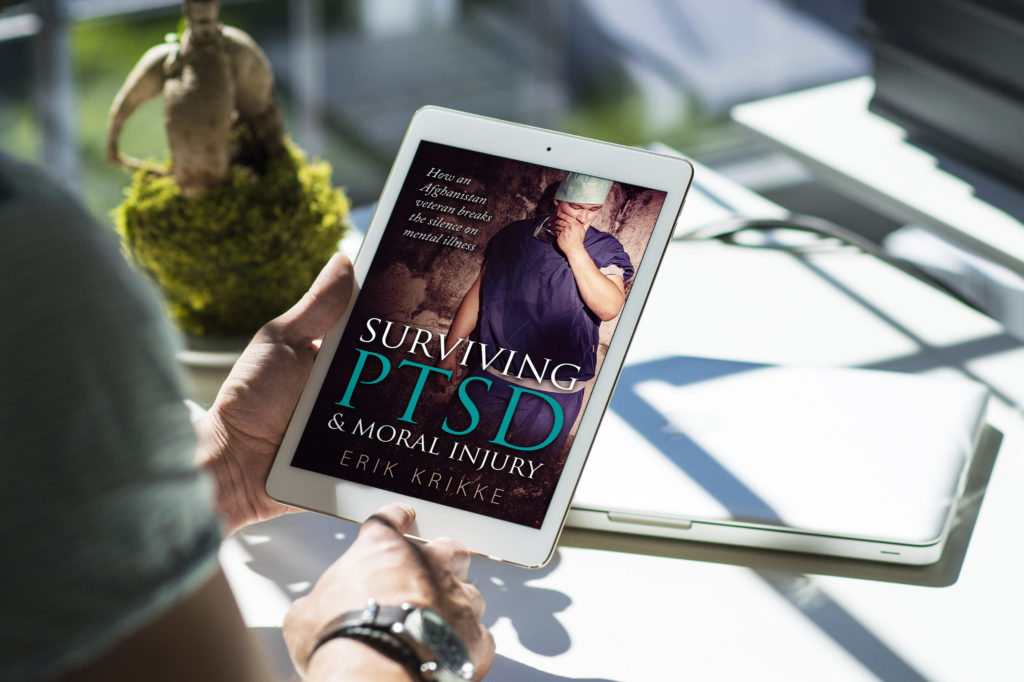 About the Author Erik Krikke
Erik Krikke (1976) is a husband, a dad of two and a veteran. In Surviving PTSD he openly describes the impact of war in a raw and gripping way. He puts a spotlight on the work of a medic in a war-torn country. In 2016 Erik won the Boekgoud awards in the Dutch non-fiction and biography categories, and was also crowned the overall winner. Thanks to the exposure and awareness generated, Erik is becoming the face of the psychotic illness that is PTSD.
Tens of thousands of people deal with PTSD on a daily basis. A post-traumatic stress disorder isn't just something soldiers suffer from, but also affects healthcare professionals, police officers, firefighters and EMS personnel. There are also many men, women and children who suffer from it after a traumatic experience in their lives. Families that have to live with PTSD live in a world that they simply can't control. People don't talk about it and conversations about it are, by its very nature, heavy and difficult.
Surviving PTSD Theatre Tour – 7even Bridges
Erik writes about his experiences that led to his PTSD and his moral injury in his book Surviving PTSD. And it doesn't stop there. He and his band 7even Bridges are touring Europe with their very own theatre tour, in which his stories serve as a guide for a night of musical theatre filled with emotions, tears and laughter.
The show is an intense and impressive experience, with gripping theatre accompanied by beautiful songs. 7even Bridges is truly a band of brothers with over 25 years of stage experience and is well known for their vocal harmonies and musical accomplishments.
Erik and the band are currently working on their debut album, titled 'Break the Silence'. Each song on the album covers a chapter of Erik's story.
All the conversations, books and performances are nothing more than another part of the process, because Erik doesn't think he will ever be freed of PTSD. His only motivation is to help others who are burdened with it and help them to break their silence. Every wonderful response and review to his book and theatre show, each compliment after one of his lectures reinforces his belief that the taboo around trauma and PTSD needs to be broken.