Memoirs of Thom Harinck, Kickboxing and Muay Thai Legend
Thom Harinck is the celebrity kickboxing coach of national and international champions and the tactical mastermind behind three consecutive K-1 championships. Harinck trained numerous world champions including Peter Aerts, Branko Cikatić, Jérôme Le Banner, Badr Hari and Hesdy Gerges and has coached masses of students in his dojos in Amsterdam, Brazil and Japan.
Thom Harinck invented his own style of fighting: chakuriki, which is a unique mix of techniques from kyokushin karate, judo, boxing, jujutsu and wrestling.
Thom Harinck memoirs are full of great kickboxing stories
In Thom Harinck, Godfather of Muay Thai Kickboxing in the West, the 72-year-old coach candidly tells of the highs and the lows, the struggles and hard-won victories on his journey to becoming a living legend in the world of martial arts. He looks back on 40+ years of his remarkable career as a kickboxing coach, sharing anecdotes about his life as a bouncer, martial arts apprentice, stuntman, trainer and as husband of Professor Marjan Olfers. Although he announced his retirement in April 2013, he picked up training again in early 2016..!
The book contains numerous stories from the world of kickboxing, some of which have never been published before. Harinck relates the thrill of fighting in international tournaments, including intense battles in Thailand, the home of Muay Thai. We read about the sensei (teacher) of the Chakuriki dojo running barefoot with his students through the streets of Amsterdam at night, and about the deep friendships between Harinck and his fighters. His memoirs are filled with the Amsterdam tongue-in-cheek wit and wisdom of a man who has truly lived his life as an intrepid spirit, and to the fullest. The life of the Dutch born Harinck has been anything but a quiet one.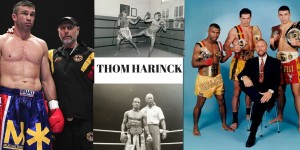 The book is illustrated with more than 100 photos from Thom Harinck's archive, documenting his life from humble beginnings as a shy Amsterdam kid to the celebrity coach of the present day. A selection of students and champions appear throughout the book, including: Richard Ploos, Iwan de Randamie, Saskia van Rijswijk, Rik van de Vathorst, Stuart Ballantine, Branko Cikatić, Tekin Donmez, Kenneth Plak, Corinne Geeris, Patrik Eriksson, Perry Ubeda, Nobu Hayashi, Peter Aerts, Badr Hari, Hesdy Gerges, Satoshi Ishii, Jérôme Le Banner, Menno Dijkstra, Amir Zeyada, and Gilbert Ballantine.
The memoirs are based on numerous interviews with Harinck, keeping the style conversational and easy to digest. The English Kindle version of Thom Harinck, Godfather of Muay Thai Kickboxing in the West, co-written by Thom Harinck and Julio Punch, is available now on Amazon as Kindle eBook and paperback. Also available on Barnes & Noble and on bol.com. Please note: the paperback is not available on amazon.nl, because that site only offers ebooks. If you have any difficulty ordering please send me a mail.

Excerpts from Thom Harinck's Memoirs as Kickboxing Coach
THE LOST PRIZE MONEY
Branko won his first big prize money in the K-1 in 1993: 100,000 dollars. He received the money in cash in the ring when he won the tournament. Loads and loads of pictures were taken of it. He carried the cash with him back home. We always flew to Amsterdam first, and Branko would fly to Zagreb from there. I kept the money with me until we went back. He had stored the money in a money belt. The K-1 always lets the coach travel first class while the fighters and corner men travel economy class. If you're the champ you can demand to travel business class, but this was Branko's first K-1 title.
I hate flying. I'm actually scared to death of it, so I usually take a sleeping pill and just sleep through it. At some point during the flight, Branko woke me up. He was in a state and said: "Thom, Thom, I lost my money." I was wide awake immediately. Now what happened was this: Branko had taken a sleeping pill too but had gone to the toilet to answer a call of nature and had left the bag of money in the toilet. When he later realized he wasn't carrying the bag, it was no longer in the toilet.
I approached the stewardess and said: "This guy has just lost 100,000 dollars. We have to retrieve the money." Branko had brought seven guys with him from Croatia, and Branko, a full-fledged heavyweight, was actually the smallest of the group. One of them was 2.10 metres tall. These were all very big and rich guys who also had sponsored him. The stewardess wanted to say something though the microphone, but I took the microphone out of her hand and said: "We are very sorry, ladies and gentlemen, but my fighter has just lost 100,000 dollars and we will be searching everyone on the plane. We'll be starting in the front and will work our way to the back." So we started out in the front of the airplane while it was still flying, in the economy class, and politely asked people to empty their pockets and open their bags for us. About three seconds later, someone came running up from the back of the plane and said: "I think I have a bag here with something in it."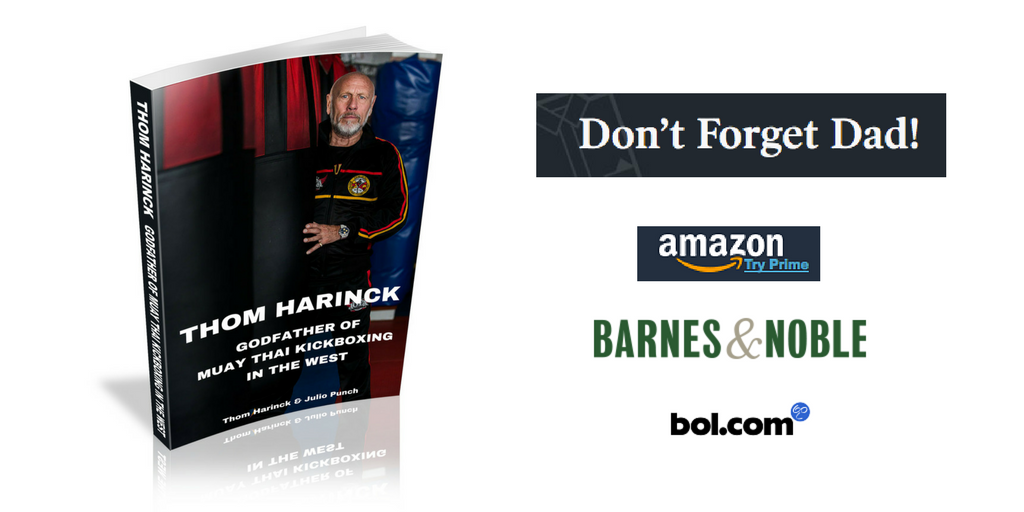 "BAD BOY" BADR HARI
There once was a little boy called Badr Hari. He was born in Amsterdam of Moroccan parentage in 1984. At the age of seven Badr took his first kickboxing class. He himself had wanted to take horse riding lessons but the kickboxing gym was all that the family could afford. Under the guidance of former world champion Mousid Akamrane, the young Badr quickly mastered the basics and fought his first match at the age of 7. During the 1990s, Mohammed Ait Hassou was very successful with his gym, called Sitan Gym in Amsterdam. He was also head of a flowering organisation, the WPKL [World Professional Kickboxing League] that regularly organised kickboxing events in Sporthallen Zuid, including several Netherlands-Thailand match-ups. It was only logical that Badr switched to the Sitan Gym in his early teens and fought several matches for them. When Sitan Gym decided to relocate to Rotterdam, continuing his training with them became impractical for Badr. So it came about that the then 16-year-old young man enlisted at the Chakuriki Dojo in Van Hallstraat.
MY 'SECRET" TRAINING METHODS
Through the 1990s, some journalists from a famous Japanese martial arts magazine visited me in the Netherlands. They wanted to write an article about my training methods. We went to a sports hall with the journalists and their photographers and Branko Cikatić. I said to him: "Branko, we're going to fool around a bit here." I'm not someone who will reveal all my training systems to the first person who asks. I laid out some blocks on the floor- a training tool I normally never use in my classes. I said to Branko: "Jump!" And he had to jump from left to right and from front to back. Branko was begging me: "Sensei, please don't do this!" but I put on a very stern face and shouted: "Jump, Branko, jump." The Japanese were letting out "oohs" and "aahs" every few seconds. They were taking everything dead seriously. I put up a rope, and Branko had to jump over it. I used a wooden stick and let Branko jump over it. All things I normally never use in my classes. I let him sprint to the wall and back. At one point, that big Croatian couldn't contain himself with laughter. The Japanese copied everything verbatim and this all appeared a month later in the issue of their magazine. In the article it said something like: "That Thom Harinck sure uses some crazy training systems to get his students to championship status."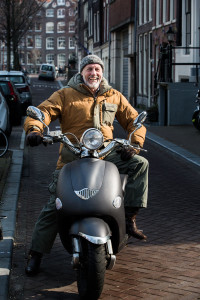 "Thom Harinck is one of the finest kickboxing coaches ever on record. The list of great champions he has trained is long and full of superb fighters. Harinck's book is essential reading for all reality-based martial arts fans." – Bob "O'Hara" Wall, American karate champion and co-star of Enter the Dragon.
About the authors Thom Harinck and Julio Punch
Thom Harinck (The Netherlands, 1943) lives in Amsterdam and is married to Marjan Olfers. Together they have three children: Jane, Charlotte and Tobias. Thom is the author of several books on martial arts, such as Muay Thai or Kickboxing. He can be reached at www.thomharinck.com
Julio Punch (United Kingdom, 1971) is a Dutch translator and computer instructor. He has practised several martial arts as well as yoga: he has a blue belt in kyokushinkai karate. He studied Philosophy and Cultural Anthropology. The current publication is his first book. He can be reached at www.julio-online.net
For the Press
For complimentary press copies (ebook only), please get in touch with Liesbeth Heenk of Amsterdam Publishers: info@amsterdampublishers.com / +31 6 518 58260.