Hank Brodt Holocaust Memoirs – A Candle and a Promise
Over the years Hank Brodt (b. 1925) has bourn witness through the spoken word, and now also in the written word. His daughter Deborah Donnelly has worked for years with her father to make his survivor story into a memorable book.
Writing a memoir allows victims such as Hank Brodt to have a voice and to take ownership over their own story. After all, these memoirs combined will act as the voice of the Holocaust when, in ten years time,  victims are no longer with us and able to tell us their stories first-hand.
As Publisher I feel it is our task to accept these testimonies with gratitude and become the witnesses of witnesses.
Although decades passed since the Holocaust it is important that we preserve the memories of those who lived through it and to honor those who perished. We should continue to reflect on the events of the Holocaust so that we can – hopefully – learn valuable lessons from it.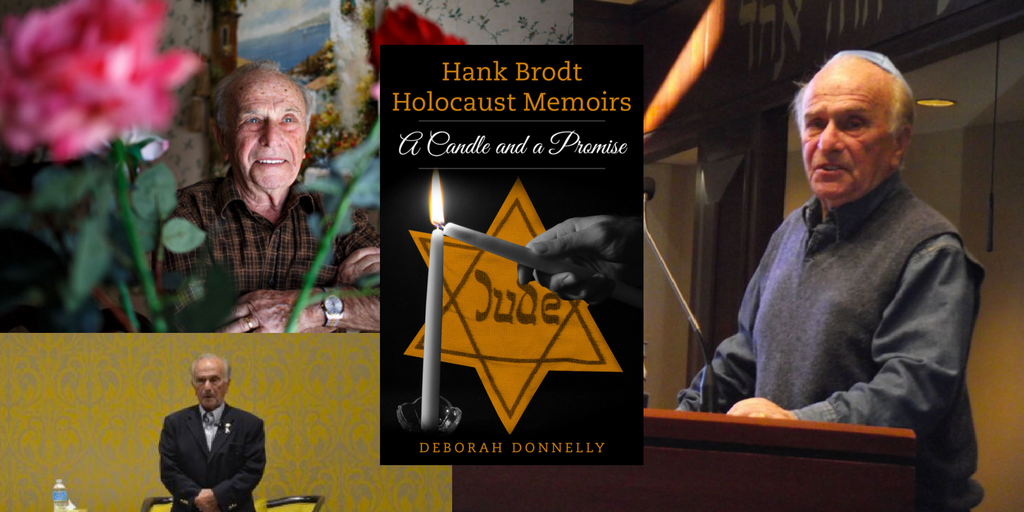 Two excerpts from Hank Brodt Holocaust Memoirs:
Hank Brodt in Boryslaw (Poland)
I found myself becoming more and more enraged. There was no outlet to rid myself of the anger and hatred that were building inside me. There was nothing I could do but carry it around and feel it grow day by day. I watched my mother become weaker as the days wore on, and there was nothing I could do to stop it. That feeling of helplessness added to my anger.
As I walked through my town, orders were barked in German. Failure to comply resulted in being beaten or killed. Memorizing German words to avoid being clubbed, or worse killed, for not responding became very important. Fortunately, there was some similarity between German and Yiddish. I worked diligently to give these new German words meaning. I thought it might well mean the difference between life and death for me and my mother.
We did not know how it could get worse, but it did. I lost my job, our sole source of income. Our world was falling apart. By October 1941, things became even tougher. Two ghettos were formed in Boryslaw. There was no need for a fence. Most of us did not venture beyond our designated area. The Nazi guards and the Ukrainians, primarily the latter, gladly took on the job of beating any Jew who violated the rules or ventured beyond the ghetto.
Being poor did have some unexpected advantages in these miserable circumstances, and in a very strange way, we were actually lucky. Our house was in a poor section of town that was later designated the ghetto. As a result, we did not have to move and no one came to share our home. Unlike many others, we were not forced to endure such changes.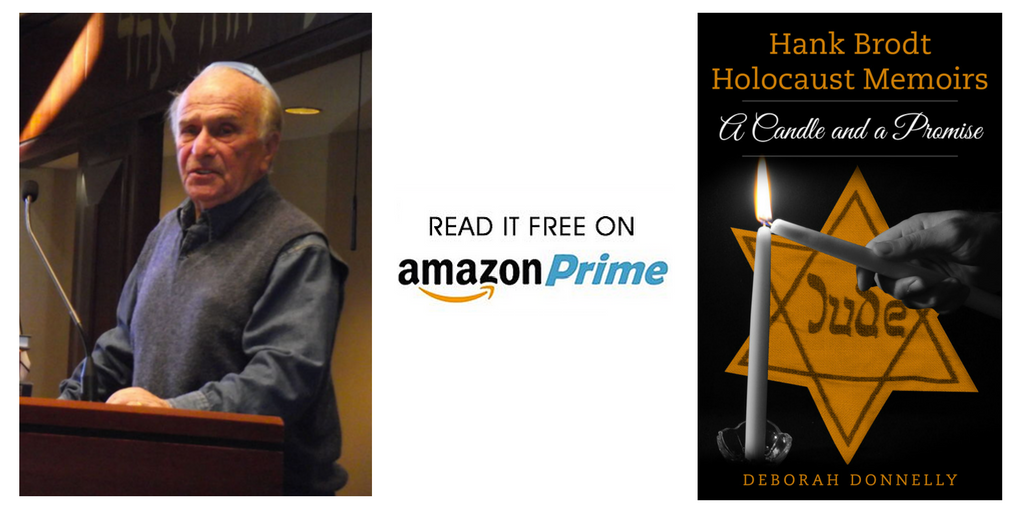 Hank Brodt & Nazi criminal Amon Goeth
Amon Goeth was the commandant of Plaszow until September 13, 1944. Goeth was not only insane, but a sadist. He found joy in killing. His house stood on another hill, high above the camp, from where he would randomly shoot prisoners going about their business. He walked around with guard dogs and without any provocation would order them to rip a prisoner to shreds.
When the smell of decomposing bodies could no longer be ignored, there was a visit from some Berlin officials. All bodies buried on the hill were to be exhumed. This of course became a work detail. After the bodies were exhumed, they were set ablaze. Hitler's henchmen hoped that all incriminating evidence had now been erased, proof of the horrible crimes literally going up in smoke.
When I arrived in Plaszow, I soon discovered that there were no rules to play by. The commander was crazy; I would see a man standing one minute and then see him shot dead the next. I had no idea what to think. I could not see a guard anywhere near him. I looked toward the hill, where there was a house. My eye caught a man standing on the balcony with a gun. It was Goeth. I had no idea what the poor man in Goeth's crosshairs had done as he dropped dead. It did not matter. It was just Goeth's way, using innocent people for target practice. This particular shooting happened within a few minutes after we got off the train and were marched to the showers.
***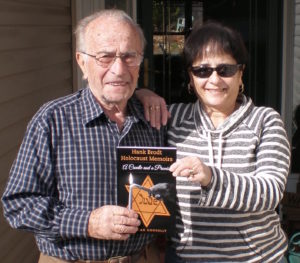 For other Holocaust Memoirs published by Amsterdam Publishers see: Outcry – Holocaust Memoirs by Manny Steinberg. This book made it into the #1 bestseller list on Amazon.
Hank Brodt Holocaust Memoirs – A Candle and a Promise is available on Amazon.
Check this interview with Hank Brodt on the publication of his autobiography.
Reviews of Hank Brodt Holocaust Memoirs
January Gray Reviews 28 September 2016
In November we launched the Amsterdam Large Print Library. Outcry – Holocaust Memoirs by Manny Steinberg is the first volume in this series. Hank Brodt Holocaust Memoirs is volume 2. These publications with font size 16 are catering for the visually impaired.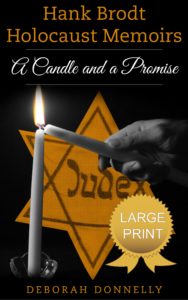 On Memorial Day 2017, an article written by Deborah Donnelly was published in the newsletter of the American Hebrew Academy Hagesher. Deborah described her publisher as tough..! Thanks Deborah (..!)

Amsterdam Publishers
Amsterdam Publishers specializes in memoirs written by Holocaust survivors. Holocaust survivor stories need to be kept alive. Every year, survivors with unique testimonies are passing away. This means that we will soon no longer be able to hear first-hand from the people who survived the Holocaust. Books and video testimonials by survivors will be the only ways to get to know their moving stories.
In case you enjoyed reading these memoirs you might be interested in reading some of the other titles:
Among the Reeds by Tammy Bottner
Outcry – Holocaust Memoirs by Manny Steinberg
Holocaust memoirs by a Bergen-Belsen Survivor & Classmate of Anne Frank by Nanette Blitz Konig
See you tonight and Promise to be a Good Boy! by Salo Muller
The Dead Years by Joseph Schupack
The Mission of Abbe Glasberg by Lucien Lazare
Bewaren
Bewaren
Bewaren
Bewaren
Bewaren