Holocaust Memoirs of a Bergen-Belsen survivor & Classmate of Anne Frank by Nanette Blitz Konig
In these emotional Holocaust memoirs, Nanette Blitz Konig relates her story during WWII when she, together with her family and millions of other Jews were imprisoned with a minimum chance of survival.
Classmate of Anne Frank in the Jewish Lyceum of Amsterdam, with whom she met again in Bergen-Belsen shortly before Anne died. During these emotional encounters, Anne revealed to her how they hid, their deportation, her experience in Auschwitz and her plans for her Diary after the war.
The book describes the hourly battle for survival under the brutal and inhuman conditions in the camp imposed by the Nazi regime, continues with her struggle to recover from the effects of starvation and tuberculosis as a result of her imprisonment and then goes on with how she was gradually able to restart her life, marry and build a family.
About the Author
Nanette Blitz Konig (1929) lives in São Paulo, Brazil, is mother of three, grandmother of six and great grand mother of four. She has written the book to speak in the name of those millions who were silenced forever.
Launched on Holocaust Remembrance Day 2018.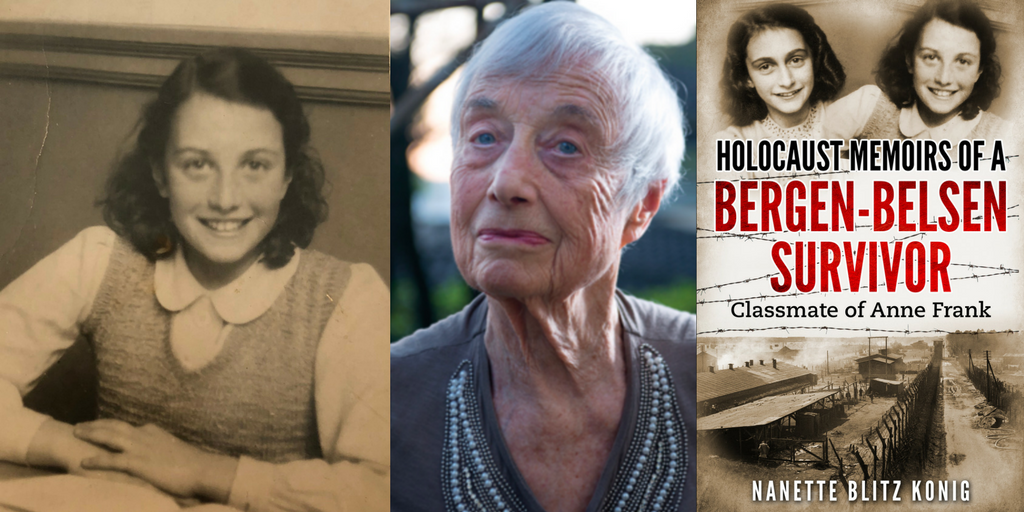 Amsterdam Publishers
Amsterdam Publishers specializes in memoirs written by Holocaust survivors. Holocaust survivor stories need to be kept alive. Every year, survivors with unique testimonies are passing away. This means that we will soon no longer be able to hear first-hand from the people who survived the Holocaust. Books and video testimonials by survivors will be the only ways to get to know their moving stories.
In case you enjoyed reading these memoirs you might be interested in reading some of the other titles:
Outcry – Holocaust Memoirs by Manny Steinberg
Hank Brodt Holocaust Memoirs by Deborah Donnelly
Among the Reeds by Tammy Bottner
The Dead Years by Joseph Schupack
See You Tonight and Promise to be a Good Boy! by Salo Muller
The Mission of Abbe Glasberg by Lucien Lazare