Coping with Chronic Pain by Anna Raymann
Amsterdam Publishers has been acting as the agent for three authoritative eBooks on coping with chronic pain by Anna Raymann.
The author worked as a physiotherapist until the age of 40, when her chronic back pains prevented her to work any longer. She then started blogging about her life of dealing with chronic pain and her health, which was deteriorating and stopping her from leading the life she wanted.
Her discovery that many chronic pain patients have difficulty in maintaining a proper social life, led her to write these three eBooks in the series Coping with Chronic Pain – a team effort.
They have been written for three different social circles, since all three have different issues and problems to tackle. The eBooks are practical and offer very clear Dos and Dont's. They have been well written and offer a lot of insight for both Chronic Pain Patients as well as their social environment. Recommended reading!
Coping with Chronic Pain – a team effort:
Book 1: For You and Your Partner
Book 2: For You and Your Kids
Book 3: For You and Your Family & Friends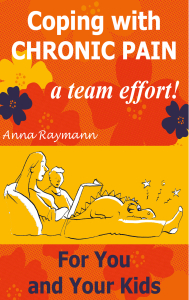 The author encourages you to partake in discussions and to leave your review on Amazon. For more information please see: www.supportforchronicpain.com
A few excerpts from the many 5-star reviews the books received:
"A Phenomenal Piece of Work – Get This Book and Live a Better Life!!"
"This is a very significant guide for everyone of us, as sooner or later we may find ourselves in either position. Don't wait until the situation arises."
"Anna Raymann understands that no one should suffer alone; not the chronic pain sufferer, family or friends. It is a team effort!"
"We all know how debilitating pain can be and how it can affect every area of our life. For those of us who have not experienced chronic pain, it is hard to imagine what that can be like. But most importantly we are often at a loss to know how to deal with the people in pain, so we distance ourselves because we can't fix the problem, in order to avoid the feelings of guilt and uselessness, or we may say things that are supposed to be supportive when in fact all they do is add to the pain of the sufferer. This book is not only of use to the chronic pain sufferer, but to all people who come in contact with one. I particularly appreciated the fact that the person in pain does not expect us to FIX the problem. The list of all the do's and don't are very helpful, particularly the "black" list of things we should never say and the "Letter to a friend". I cringe at the thought of some the things I have said in such circumstances trying to be positive, in total ignorance of how these "helpful comments" affect the person at the receiving end. This is a very significant guide for everyone of us, as sooner or later we may find ourselves in either position. Don't wait until the situation arises."
Bewaren