Healing Naturally and Primary Reflexes
Healing Naturally and Primary Reflexes – Restore Energy with Organic Moves by Margaret Mulder will provide you with insight into the probable cause of your constant lack of energy and will give you practical tools to regain your vitality in a 100% natural way.
You may never have heard about primary reflexes, or primitive reflexes, but they can be the source of many health problems.
The book highlights the devastating influence primary reflexes can have on the human body from the age of 12 months onwards. Knowing about these reflexes, you will be able to find a solution in the form of primary reflex inhibition by which these reflexes are controlled and hence stop the energy drain and stress.
Knowledge of uninhibited primary reflexes is scarce. Therefore you may not be aware of the disturbing effects of these repetitive movements on your nervous system. All of us, regardless of our origin, education or culture, can suffer from uninhibited primary reflexes.
Healing Naturally & Primary Reflexes takes you on an astonishing trip through the world of primary reflex movements. In the womb, babies develop primary reflexes or movement patterns that help them to survive the birthing process and the following couple of months. They enable essential functions like breathing, feeding and reacting to stimuli.
However necessary these reflexes may be at the start of our lives, a baby needs to learn to control them. In the majority of cases this happens naturally, but not always. It is generally unknown that these primary reflexes can linger on uninhibited, resulting in chronic stress.
This stress can come in a variety of disguises. Symptoms may vary, ranging from inflammation, muscle and bone pain to motoric and postural problems; from emotional instability to psychiatric disorders; from concentration issues and dizzy spells to food and metabolism problems; from learning difficulties to autistic symptoms; and from all sorts of difficulties surrounding pregnancy, giving birth and feeding to relational and social problems. This book sheds light on a phenomenon about which little is known.
RPRM®, Remembering Primary Reflexes, presents a fast method to regain your vitality by inhibiting these reflexes and releasing related stress. You will be guided through the natural process of primary reflex movements by a therapist who has successfully applied this method to many patients. Simply by remembering primary reflex movements you can help yourself heal. There is no need for pills. Parents will find it a kid-friendly way to help their children without harmful side effects.
About the Author Margaret Mulder
My journey to RPRM® started in the 1980s with an insight into the future world of children in our society. I was shown the development of an outside factor; the huge increase of stimuli, which caused fragmentation of the body, thus impeding children from growing up organically.
At that time I was standing on the high tide line of North Sea sandy shores, with water washing over my bare feet. I could feel the tiny grains of sand vanishing under my soles, undermining my hold on the ground while at the same time I felt my body sinking into it. Amid these in- and outgoing forces, the awareness that everything moves came to me. This experience in my body was a revelation. All of me knew then without the slightest trace of doubt that there is nothing that does not move.
Some years later, in addition to a variety of physical problems, all of a sudden I found my legs collapsing under me when I was about to descend a staircase. Visits to several therapists brought to light that my levels of toxins were very high. Degeneration processes were undermining my health and energy, and on top of this an endocrinologist told me, "You have Hashimoto's disease, which means that your body attacks its own thyroid gland." How could I possibly know that a huge invisible energy drain in the form of uninhibited primary reflexes was permanently attacking my vitality, leaving me depleted of energy?
I tried many different courses of therapy but experienced frequent relapses, which made me aware of something nagging at the very root of my being. Then I found out about uninhibited primary reflexes. Being an experienced kinesiologist and trained in movement and sound, I instantly recognised the enormous impact of uninhibited primary reflexes on people.
I managed to get my primary reflexes under control and this proved to be the solution to the energy leak. My organism started to store energy again. What a relief and eye-opener! How come that knowledge about such an important influence on our wellbeing and health was not incorporated into baby, mother and childcare sessions? How was it possible that doctors, paediatricians and psychiatrists did not apply reflex inhibition in the first place? Such questions and the answers I found urged me to spread information about a primary reflex-related unbalanced nervous system and to develop a profound and fast primary reflex inhibition process. Since then I have assisted over a thousand people with my method.
I enjoy providing this holistic approach to health which is also the result of my experience with esoteric practise, teaching, and painting and on my work with children as a performer and storyteller. So, in my practice I work with children and adults to restore their potential for organic recovery, preferably without the use of external tools. Today I focus on sound and natural organic movement in relation to developments in the human organism and specifically on primary reflex activity.
In 2002 I started giving courses on primary reflex inhibition to kinesiologists. Over the years these courses have grown into a professional training programme, RPRM®, accessible to everybody.
For more information about workshops, courses, readings, Remembering Primary Reflex Movement (RPRM®), and therapists is available on: http://www.praktijkvoorbeweging.nl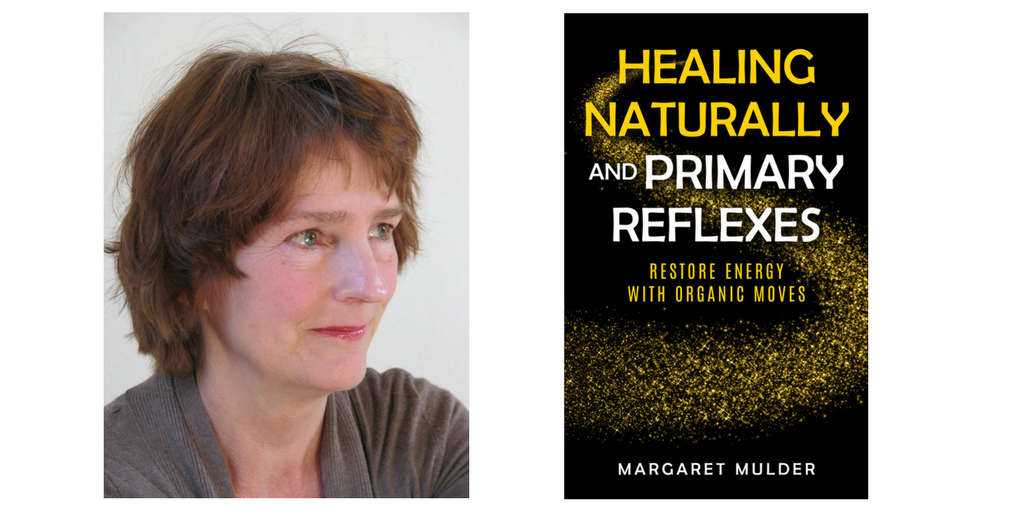 Reviewed by Mary C. Blowers for Readers' Favorite
Healing Naturally and Primary Reflexes by Margaret Mulder is actually a book unlike any I have ever read before. I have done a lot of reading about natural healing, but I have never heard of primary reflexes. Primary reflexes, as you might surmise from the use of the word 'primary,' relate to very young children. Certain reflexes are inherent in a newborn child and others develop over the child's first six months or so. Once a reflex has outlived its usefulness, it naturally becomes what Mulder calls' inhibited.' These reflexes have purposes such as helping a baby to hold its head up to crawl, or to withdraw when startled. If these reflexes are not inhibited to make way for new development in a baby, they can cause problems such as autism or physical illness.
I found this book extremely interesting because I have a few unexplained health problems, and I also work in a hospital and so I am exposed to many people with different types of illnesses that I am not familiar with. Healing Naturally and Primary Reflexes will give me a new frame of reference with which to relate to my patients. In addition, I would like to find the source of my migraines and nerve spasms. The answer could be at least partly in primary reflexes. I would like to have seen a few more suggestions for how to work with your own primary reflexes prior to seeking the help of Ms. Mulder, but not much practical information of this type is given in this book, so it is difficult to know how to help oneself to inhibit one's primary reflexes.
Do you also want to get published by Amsterdam Publishers?
Please do check our author services.
We'd be happy to help!
Bewaren